Although Louisiana is not always known for it's hiking, there are plenty of wonderful spots within the state to get out on the trail and become one with nature. If you are looking to get away for a few hours or for the whole weekend, Louisiana offers various trails that are ideal for both day hikers and backpackers.
Clark Creek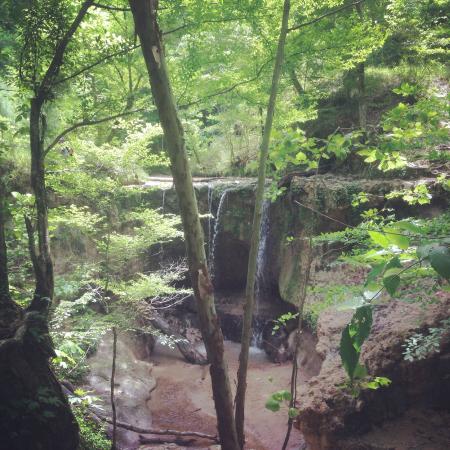 This family friendly trail has its parking lot outside of the state, but the trail itself is in Louisiana and this awesome hike is so much fun that we had to start off our list with this hidden gem. The trail is located in the Clark Creek Natural Area in Woodville, Mississippi about an hour from Baton Rouge and about two hours from Lafayette. This trail starts off with a steep decline down to the creek beds that lead to various waterfalls. The hike down to the creek beds only takes about 15 minutes and is only about a mile out so it is ideal for a family day, especially as the weather starts really warming up in mid spring. Within the creek beds, the terrain stays pretty flat the entire way with a few of the waterfalls making pools deep enough for kids to play or even full on swim in. But be wary! That steep decline down to the creek beds is a steep incline on the way back, so make sure to prepare the kids before walking back. Trust us, we are speaking from experience. If you are looking to spend your day outside with the family, get some exercise, and see some great views, this hike is for you!
Wild Azalea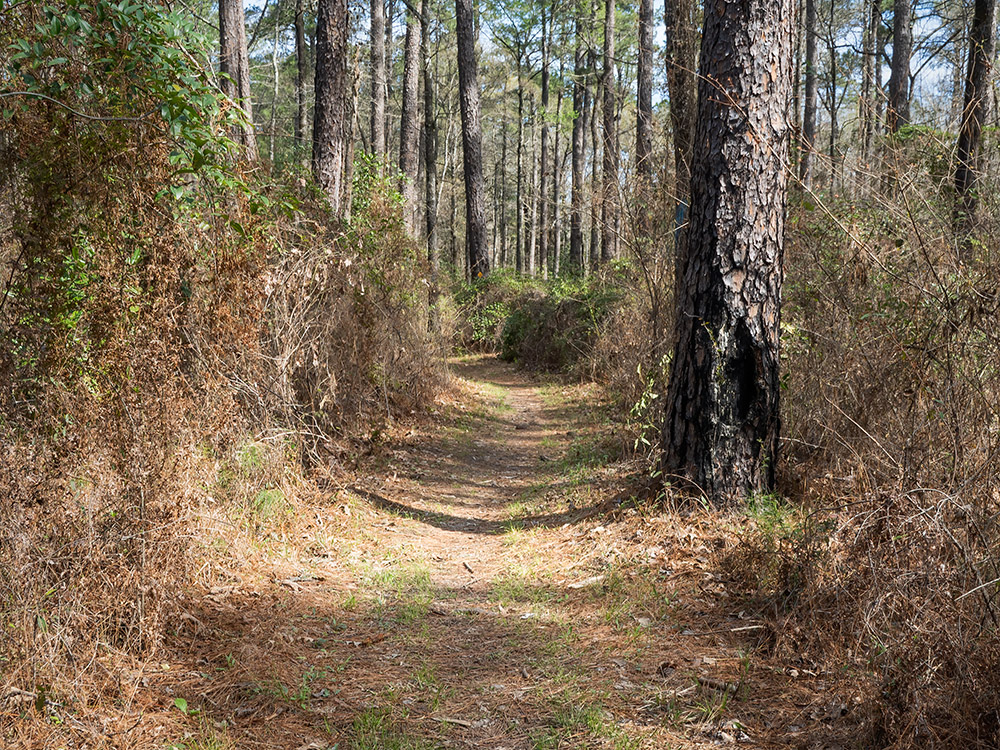 This well maintained and beautiful trail is truly a staple for hikers within Louisiana. The trail is located in the Kisatchie National Forest near Woodworth, Louisiana only about an hour and half from Lafayette and about 25 minutes from Alexandria. At around 24 miles, this point to point trail is suited for both day hiking, as well as a 2-3 day backpacking trip. The trail is spacious, clean, and very well marked. The creeks around it are not only beautiful, but provide a great and easy water source. This trail does have a few challenging inclines and declines; however, depending on how far you are hiking during the day, this could very well be a family friendly hike ideal for getting kids used to tough but rewarding hiking. This trail is exactly what you think of when you think of a pretty walk through the woods.
Backbone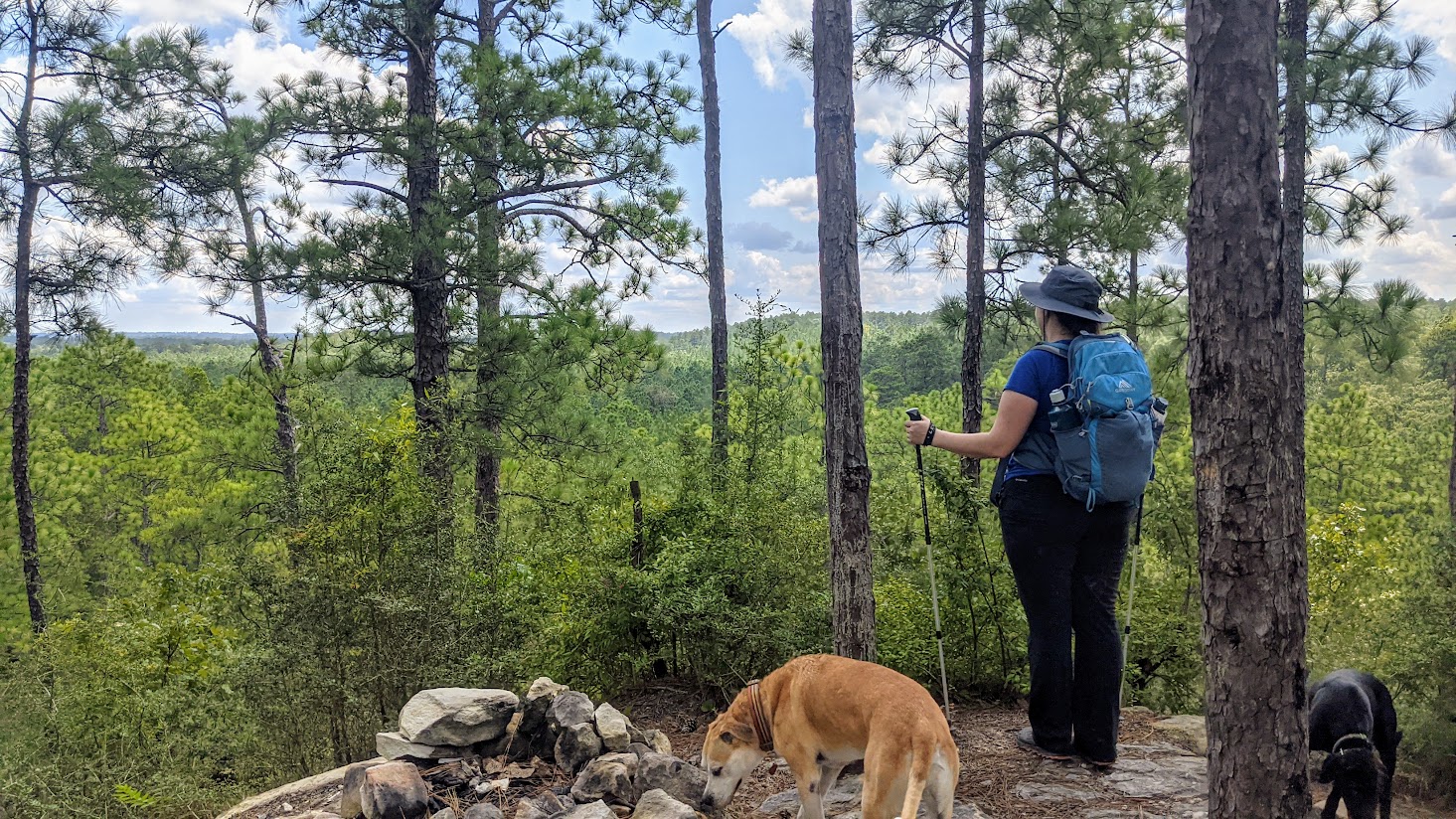 The Backbone Trail is a challenging but rewarding hike about 45 minutes northwest of Alexandria. At a little over 7.5 miles, this trail is about 15 miles out and back or can be about a 10.5 mile loop including around 3 miles on the road back to your starting point. This trail is well maintained but can become very narrow with plenty of hard inclines and declines. Although it is not as long as the Wild Azalea Trail, the Backbone is a great way to prepare for tougher backpacking trips outside of the state. There are plenty of primitive campsites along the trail, as well as a few good water sources. Unless your child has done tough hiking before, we generally don't recommend this trail for children under 12. Once you are done with this trail, you have the option of doing the Caroline Dormon Trail which begins at the same parking lot as the Backbone Trail. If you are looking to get away and hike in hard, rocky wilderness, the Backbone Trail is the trail for you.
Caroline Dormon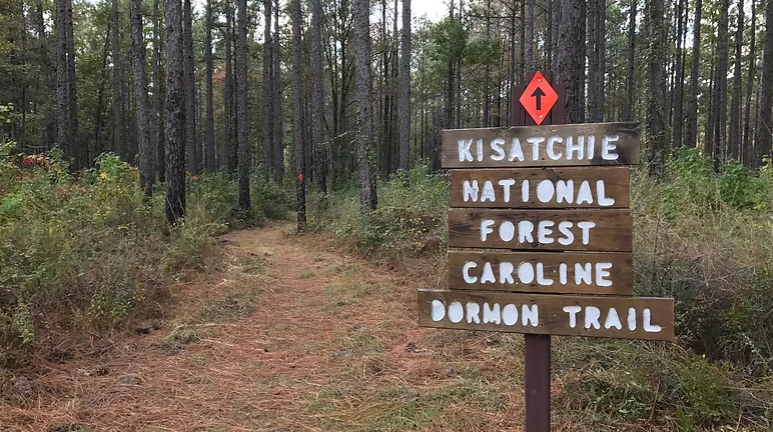 The Caroline Dormon Trail is a 10.5 mile trail that is located in the same part of the Kisatchie National Forest as the Backbone Trail; in fact, the two trails share the same trailhead. This end to end trail is slightly less challenging that the Backbone making it ideal for bird watchers and naturalists with an abundance of birds such as cardinals and blue jays, as well as plants such as long leaf pine and Virginia creeper. This trail is well maintained with clear trail markings. Although this trail is less difficult than the backbone, we generally do not recommend this hike for children under 10. This hike is perfect for those looking to spend the day soaking up nature.
Fun Fact: Caroline C. "Carrie" Dormon was a renowned forest conservationist and one of the most influential American naturalists of the early 20th century. In an era when women had no role in forestry, she was a pioneer in conservation and was involved in the establishment of the Kisatchie National Forest and was also the first woman to work in environmental education in public schools as part of the Division of Forestry in Louisiana.
Lake Chicot Loop Trail
Our final hike on the list encompasses just about everything you could want in a hiking trail. Located just 15 minutes from Ville Platte and an hour from Lafayette, this 17.3 mile loop trail is perfect to day hike or to break up for a backpacking trip. This trail offers challenging uphills, but is not so difficult that a first time hiker could not complete a section of the trail. There are plenty of birds and plants along the trail for the naturalist as well. The Loop is family friendly with many parents choosing this trail for their children's first hike or bikepacking trip. The trail follows Lake Chicot the entire way around, so there is an immediate water source; however, getting to non stagnant water that would be suitable for filter can be a bit difficult along the route. We suggest bringing plenty of water so that you have to use the lake for drinking water as little as possible. There are primitive campsites along the trail for the backpackers as well as overnight car camping spots if you are interested in spending the day at the park and day hiking with family and friends.
If you are looking to get outside, soak up nature, and hit the trail then look no further then our own wonderful state. From rugged to rocky trails to family friendly trails with surrounding amenities to hikes to waterfalls along a creek bed, Louisiana has the hike for you. The only question is… where is your next adventure taking you?